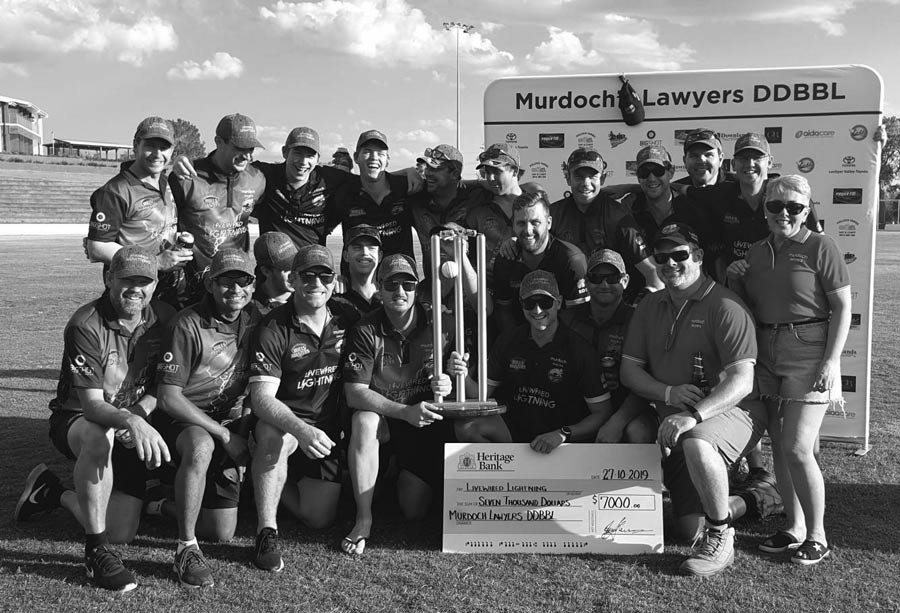 When Kent Reimers of Toowoomba Cricket Incorporated (TCI) approached Murdoch Lawyers to be the naming rights sponsor of the inaugural Darling Downs Bush Bash League (DDBBL), the team couldn't have been more excited to accept.
An initiative that was years in the making, the DDBBL was established by Kent Reimers, a current Toowoomba coach and former fast bowler.
The 6 teams participating were owned by local businesses and comprised of players from across the region. Spanning over 7 weeks with 16 matches, the 6 teams battled it out for victory at various fields around the Toowoomba region, attracting existing and new cricket fans of all ages.
The Grand Final on 27 October was between Livewired Lightning and the George Banks Umbrellas, with Livewired Lightning taking the trophy.
The support from the community was overwhelming, it's clear that Toowoomba and the Downs are enthusiastic about the League continuing over the years to come.
Not only is it bringing the community together, but the DDBBL is creating exciting opportunities for local players, as well as local businesses, and adding to the existing attractions that put Toowoomba on the map for tourists, and families looking to relocate.
The team at Murdoch Lawyers are looking forward to working with TCI to contribute to the future of this competition.
A huge congratulations to Kent Reimers and TCI, as well as the team owners and players, and the businesses involved, for a very successful campaign.
"…this concept is the most fun I have had with cricket since I played!" Brad
"…a fun afternoon and really enjoyed catching up with some old cricket mates!" Dan